Special Offers at The Siam Tea Room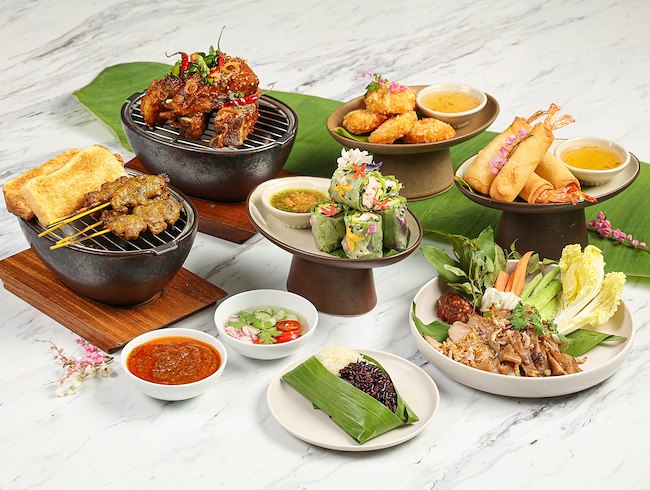 Family Set Menu at The Siam Tea Room (Asiatique)
Immerse yourself in the rich and flavorful world of Thai cuisine with our specially crafted Family Set Menu at The Siam Tea Room, Asiatique The Riverfront.
Designed to cater to the tastes of 3-4 persons, each set is a culinary journey featuring an enticing array of appetizers, soups, mouthwatering main dishes, and delectable desserts.

Prices start from 768++ per set
Available daily from 12.00 - 23.30 hrs.

See Menu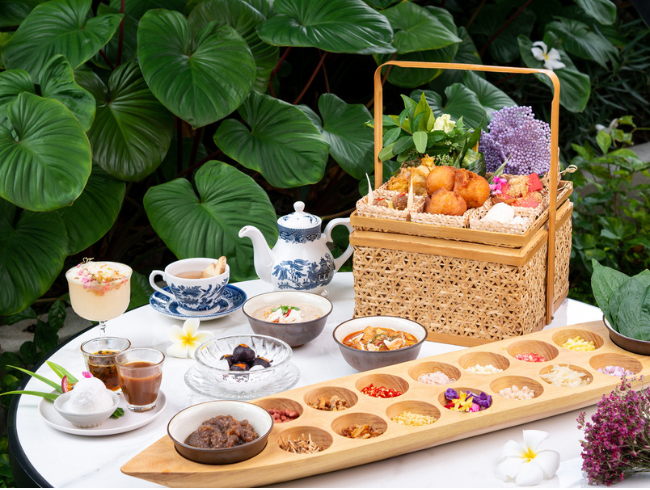 High Tea at The Siam Tea Room (Asiatique)
Experience the traditional taste of Thailand with a special Thai Heritage High Tea at The Siam Tea Room. Savor a selection of highly authentic local delicacies, including handcrafted Thai pastries, that will transport your taste buds back to an elegant bygone era, overlooking the majestic Chao Phraya River.

Open daily, Thai Heritage High Tea will be served from 13.00 - 17.00 hrs.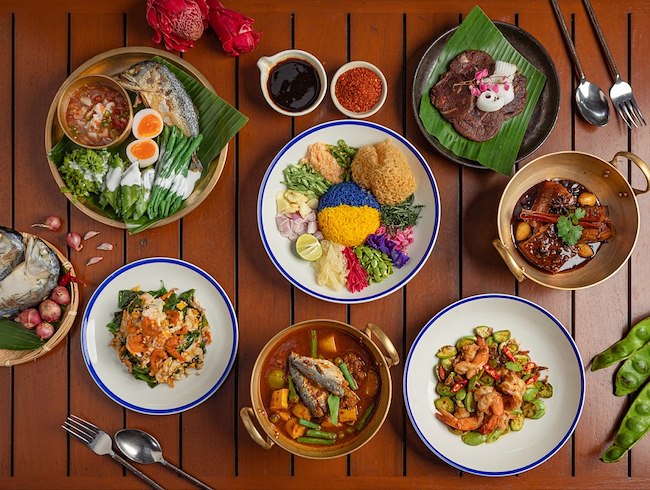 The Flavors of the South at The Siam Tea Room (Sukhumvit 22)
Transport your taste buds to the tropical shores of Southern Thailand with a new promotion that celebrates the fresh ingredients and intense flavors of this enchanting region.
Our talented chefs have crafted a selection of six sublime savory dishes, including
Chili Shrimp Oaste with Fried Mackerel, Vegetables & Soft Boiled Egg
Southern-style Herbal Rice Salad with Fresh Tender Leaves, Fluffy Fish & Fermented Fish Dressing
Southern-style Sour Soup with Cured Fish Intestines & Fresh Vegetables
Stir-fried Prawns with Sato, Chili, Garlic & Shrimp Paste
Stir Fried Baegu Leaves with Egg & Goong Kaew
Southern-style Pork Stew
Thai Coconut Pancake
Prices start from THB 180++ per dish
*Available from 1 September - 31 October 2023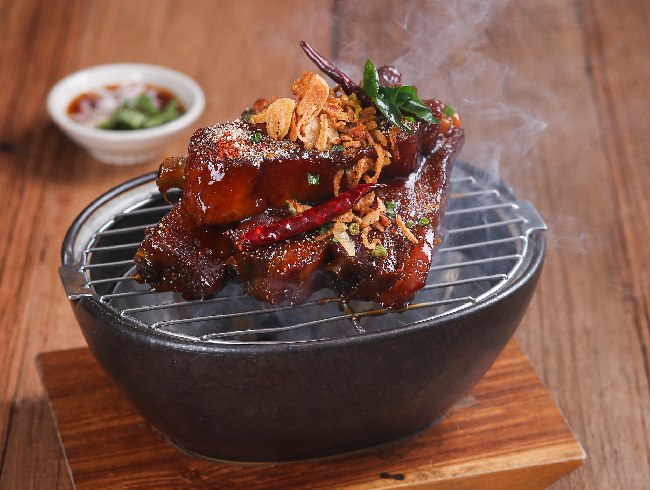 Earn & Redeem with Marriott Bonvoy at The Siam Tea Room (Sukhumvit 22)
Be rewarded for what you love! From free nights at the travel destination of your dreams to sumptuous dining benefits, we're offering Marriott Bonvoy members a chance to earn points when dining in at participating restaurants and bars around the globe!
Redeeming 3,000 Marriott Bonvoy points at The Siam Tea Room and enjoy one complimentary of the signature BBQ free range pork ribs, ground roasted rice, spicy tamarind glaze.

Available from September 1 - October 31, 2023

Not a member yet? Join today by visiting our website to learn more about member benefits at - https://marriottbonvoyasia.com/dining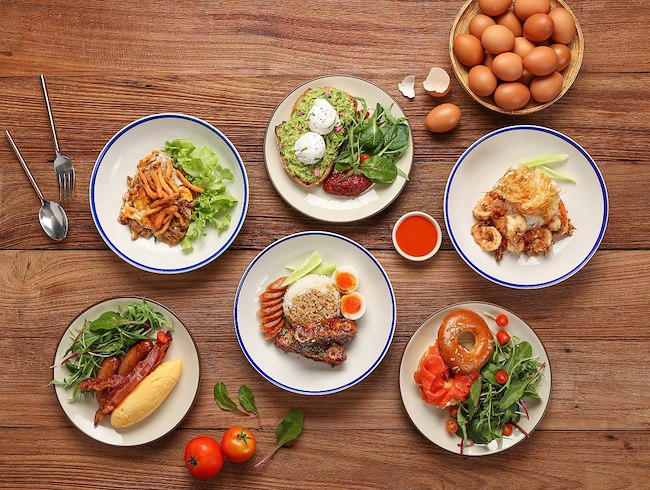 Breakfast Delights at Siam Tea Room (Sukhumvit 22)
Embark on a culinary journey with our diverse breakfast menu at Siam Tea Room. Our breakfast menu features a delightful fusion of Western classics, authentic Thai delicacies, and satisfying vegan options.
Don't miss out on the most important meal of the day—join us at Siam Tea Room!

Prices start from THB 180++ per dish
Available daily from 08.00 - 11.00 hrs.

See Menu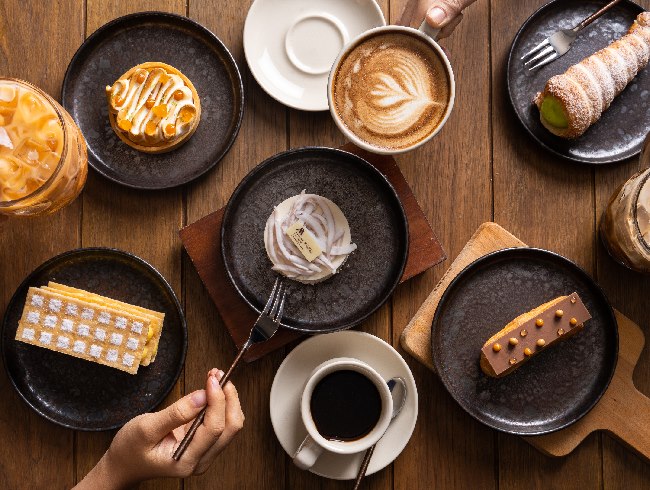 Happy Hour at The Siam Tea Room (Sukhumvit 22)
Happy Hour for Marriott Bonvoy members! A special bonus for our Marriott Bonvoy members - 50% off selected pastries and baked goodies, every day from 19.00 hrs!
*Available at Sukhumvit 22 branch only.

Terms & Conditions
• Marriott Bonvoy membership is required for this promotion.
• This promotion cannot be used in conjunction with other discounts or offers.
• Marriott Bonvoy points cannot be earned with this promotion.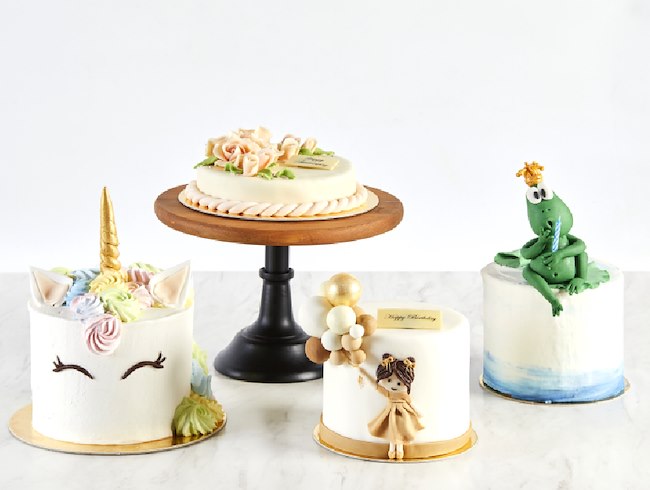 Celebratory Cakes by The Siam Tea Room (Sukhumvit 22)
Let us make your special day truly unforgettable. Celebrate in style with a delectable cake, skillfully crafted by our culinary team.

Price at THB 900++ /1lb
* Cakes start from 2 lb, and a two-day
* Advanced order is required.

SEE MENU
Order your favorite cake directly at The Siam Tea Room, Sukhumvit branch only.